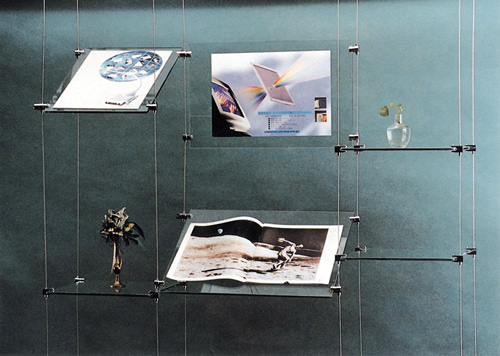 At MBS we are growing to meet the demands of our customers. We are very fortunate to be growing so rapidly in this economy. One of the reasons we are so fortunate is we are delivering excellent products at a really affordable price that until now has been reserved for luxury appointments. Having art or signage displayed with standoffs or hanging displays was reserved for major corporate centers, affluent private organizations or galleries and museums. But MBS has made it so affordable you can now have these stunning displays in your home.
In the past a large part of our business has been selling to places like we mentioned above. Those clients know what they need and can visit our website and order or pick up the phone and give us a call. Or, they hire professional installers that work with us. But for the DIYer home owner it can be a little tricky getting the right parts for the job.
One of the most searched products we offer would be "Floating Shelves". But the way our site was configured, you had to be an installation professional to order off of our website, because you needed to know what parts were necessary to order for that specific project. A homeowner needs more guidance. So we are developing new sections of our website to help the DIYer and we kick it off with Floating Glass Shelves.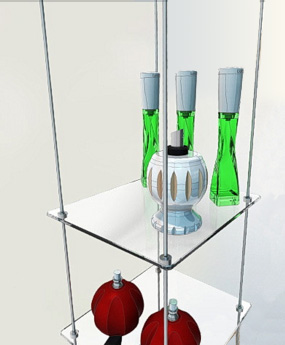 This section of our website is devoted to the contemporary design feature of glass shelf systems supported by either our cable systems or rod systems. These types of displays have been used by the most exclusive merchandisers and we have admired them for years. It's now affordable and easy to have them in your home.
There are a couple considerations you need to keep in mind. First, what is it you wish to display? Is it an item that stands tall and might topple over if disturbed? Then you will want to look at our rod systems that offer more support. If you want something displayed in a room where the display is lost in the design, our cable systems are almost invisible, while providing excellent support.
If you've been looking for Floating Glass Shelves, Hanging Shelves or Suspended Shelves MBS has the highest quality. Lowest cost solutions in the industry. Call one of our specialists today to get your project started (813) 938-6025