MBS would like to congratulate the Tampa Bay Lightning for their third consecutive appearance in the Stanley Cup Playoffs. For those of you that are new to Tampa the team won the cup for the 2003-2004 season.
We would like to point out that you can find standoffs in the Amlie Arena. Among many examples is this important sign presented to the Lightning by Dex Imaging for the Lightning Foundation Community Corner.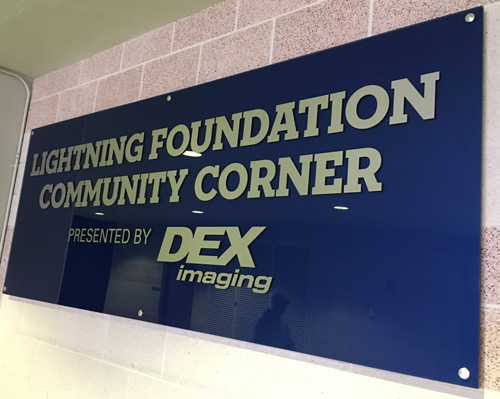 Standoffs are a great way to mount all types of materials to make them stand out. From acrylic to lexan or even aluminum, the choices between your material and the type, size and style of standoff are endless.
If you would like to learn more about all the products we offer please visit our site or call our very helpful staff at (813) 938-6025
#tampabaylightning, @TBLightning