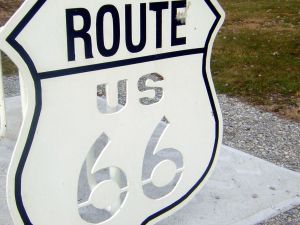 As you well know, we are big fans of signage and making your particular signage stand out in class, dignity and elegance. As we were created to enhance signage for offices, office spaces, entire buildings and organizations, we have developed an affinity and appreciation for great signage, especially the signage that has garnered international recognition.
We were tickled when we found this o the Internet recently - a list of the 10 most famous signs. We'll share the list here and we'd like your feedback first, which ones are your top three? And, how many of the signs would look even better with our standoffs attached?
OK, you don't have to answer that second question. Without further ado, here is the list:
"Welcome to Fabulous Las Vegas Nevada" - this sign is well-known for its neon lighting that has welcomed tourists to the desert oasis since 1959. There are several replicas closer to the Las Vegas Strip now.
United Nations - The United Nations logo is prominent on the U.N. flag, which is displayed in many countries around the world. It is most visible, however on the U.N. flag that flies outside the U.N. headquarters in New York City.
Broadway Street signs, New York City - Broadway, of course, is considered the world's mecca for theater, and many dancing, singing and acting artists speak of the goal to "play on Broadway." The street actually stretches far beyond the Theater District, as it goes through the Bronx and ends in Westchester County, N.Y.
Beverly Hills sign in California - This sign, erected in 1911, is housed at Beverly Gardens Park and is actually a duplicate of a sign that is in the city center of the swanky Los Angeles suburb.
Nullarbor Plain Crossing sign, Australia - Have you been to Australia? Have you taken an "outback experience" there? Chances are, the genuine article involves crossing the Nullarbor Plain, which is an area of the outback with nary a tree in sight.
Moulin Rouge, Paris - The windmill and sign outside this well-known parlor (there was a movie made about it starring Nicole Kidman, for crying out loud!) have been up since 1889. King Edward VII, wen he was still the Prince of Wales, was known to have frequented it when he visited Paris.
London Underground - These familiar signs are so popular, in fact, that people can by a customized sign through the transport department's online shop. Imagine one of those in your office, complete with our standoffs!
Chicago Theatre sign, Chicago, Ill. - The lighted, vertical "Chicago" sign is perhaps the most recognizable feature of the Windy City, and has been shown as such in various TV shows and movies.
U.S. Route 66 signs - Since the advent of the interstate highway system, these signs are symbolic of a bygone era in cross-country travel. The route connected Chicago to Los Angeles.
Hollywood sign in the Hollywood Hills, California - This sign used to be longer - at one point it read "Hollywoodland," which was a housing development in the 1920s.