Floating Glass Shelf Kits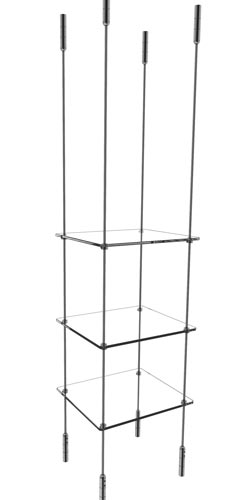 Looking for suspended shelving? Don't know what to buy? Here is a kit that includes all you need for a 12" x 12" - 3 shelf display that anchors from ceiling to floor that will work for most applications of ceilings 9' (nine feet) or lower.
You've seen this classic look for decades in the most luxurious retailers displaying the most expensive items they offer. And for good reason. These shelves were designed to focus on the items being displayed not the display. Their contemporary design can fit in with most any look. Now MBS makes them affordable so small business owners can have this look but homer owners too! Use them in a bath to display guest towels and cosmetics or a den to display awards or family heirlooms.
IMPORTANT: The only thing you need is your hardware for your specific application of drywall or concrete.