Rod Systems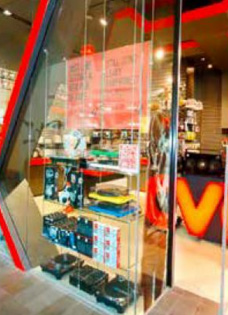 Welcome to our hardware section where you select your parts to create your own floating shelves based on our stable rod systems. If you are not 100% sure about what you need for your installation please call our knowledgeable staff to help you. We would prefer you call us and make sure you are getting the right parts the first time to make your installation smooth and simple with amazing results. Call or click on mobile 813-938-6025
If you want hanging glass shelves and your items to display are heavy or in a high traffic area then we recommend our rod systems for stability and security for your items on our floating glass shelves systems.
Quick Link: Aluminum Systems and Stainless Systems
Rod systems are inherently more stable. They can be configured to support themselves to eliminate most movement and sway of the shelves keeping your items safe. These systems can support more weight also.
A suggested use for these systems in your home might be for a room divider or suspended shelving in the kitchen over a counter or island.
If you are a DIYer or this is the first time you have installed suspended shelves please give us a call to make sure you are getting the right product for your installation. 813.938.6025