Stainless Steel Rod Display System for Signage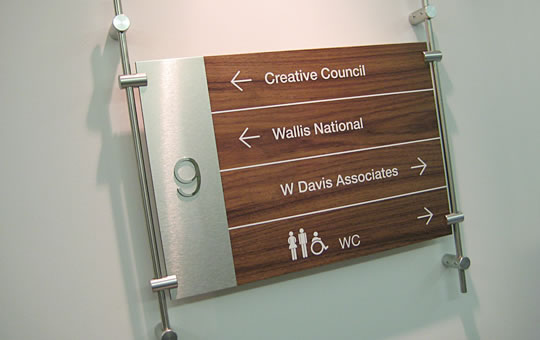 Rod systems are elegant and contemporary ways to hang signage and suspended shelving. With the combination of a rod display system, standoffs and display holders signage can be displayed in a variety of manners which do not distract from the appearance of the sign.
Display rod systems made of durable stainless steel provide a clean modern day look for businesses and organizations. Additionally, by hanging a sign with rod display systems an individual is ensuring that they are using their commercial space efficiently. Furthermore, rod systems create an elegant appearance sure to make your signs and displays noticeable.
Rod Display System for Suspended Shelving
Wall mounted shelving rod systems are perfect when it comes to displaying merchandise or products such as flooring samples, and counter top materials. Suspended shelving rod displays provide sleek and unique presentations making the merchandise and products being displayed highly visible and even touchable. For example, seeing a sample of interior home décor is extremely appealing to savvy trend loving customers.
Since wall mounted display rod systems are so versatile and sleek, rod systems have proven to be an invaluable asset to the success of retailers. Unlike frames that are difficult to dust, break easily and can become mismatched, shelving rod systems made of stainless steel are easily maintained and are convenient for when merchandise or products need to be rotated for newer items.